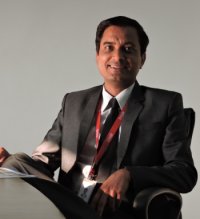 Dr Sajid Alvi
B.E, MBA, Ph.D.
Principal

I am extremely happy to welcome you all on the campus of Dnyansagar Arts and Commerce College.
The pace of change in business and technology is huge. In this scenario, it has been pertinent to strive to minimize the gap between world of work and world of knowledge. And I feel that, this is possible through imparting skill based quality education , in tune with contemporary global business trends. It is a challenge and we have to give the best within us to fulfill the aspirations of these students.
I have great pleasure in announcing that the management of Shri Khanderai Pratishthan has made a devout commitment to impart value based education and training to all aspiring young boys and girls to make them sound professionals with right attitude, mind set and impeccable character.
I extend a hearty welcome to all those coming to our fold and assure of an eventful tenure and rewarding career to one and all.